Electrical Upgrades & Renovation
Electrical Outlets, Panels, Switches & Wiring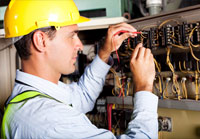 Arizona Electrical Solutions, your leading electrician in Tucson, can install any type of electrical system required in your commercial or residential building. We install high-efficiency systems designed to be the most cost-effective on the market and geared to your particular property. We are committed to building the most reliable electrical system for your needs.
The journeyman electricians at Arizona Electrical Solutions are fully trained and qualified for your most complicated electrical needs.
We Can Help You With:
Plant Relocations
Upgrading Electrical Services
Installation of Power Conditioners
Installation of UPS Systems
Battery Charger Wiring (277 or 480)
Electrical Installation of Motors and Mold Machines


(Including Compressors, Table Saws, and Computerized Machines with Different Voltage Types)

277 Lighting & Ballast Replacement
We service commercial locations with 277 wiring and can replace magnetic ballasts with updated electronics that can reduce your electrical costs.
Where Do We Work?
Residential Buildings
Office Buildings
Retail Facilities
Convention Facilities
Hotels, Apartments, Condos
Critical Care Facilities
Restaurants
Manufacturing Facilities
Multi-Use Facilities
Warehouses
Parking Lots
Medical Facilities
Car Dealerships
Hospitals
Schools
Government Facilities
Emergency Service
·

Free Estimates

Ask about our warranties and maintenance programs for homes, apartments, high rise buildings, office buildings, and a variety of retail establishments, including contracts for annual inspections.

Call us today at
(520) 308-6235.